"Thai Food and Sex Toys" Gilcée Art Print
"Thai Food and Sex Toys" Gilcée Art Print
From solo show, Safety In Numbers, at The Hole Gallery NYC.
Giclée Archival inkjet print on white Cotton Rag Art Paper.
Limited edition of 30.
Hand finished and signed by the artist.
Second image depicts framed 8 x 8 size - unframed.
Size options
8 x 8 inch
Available by request from mini print to A0 poster print.
*10% GST added to all Australian orders at checkout.
Shipping in USA
$15
All Other Countries
$25 pack and track postage and handling
Orders will ship in 2 to 3 weeks. International orders may take up to a month.
All sales are final.
Any questions? Contact me: anoukcolantoni@gmail.com
www.anoukcolantoni.com
I love to see where my art lives in your life!!! Tag #anouksinmyroom and I will repost on my Instagram for all to see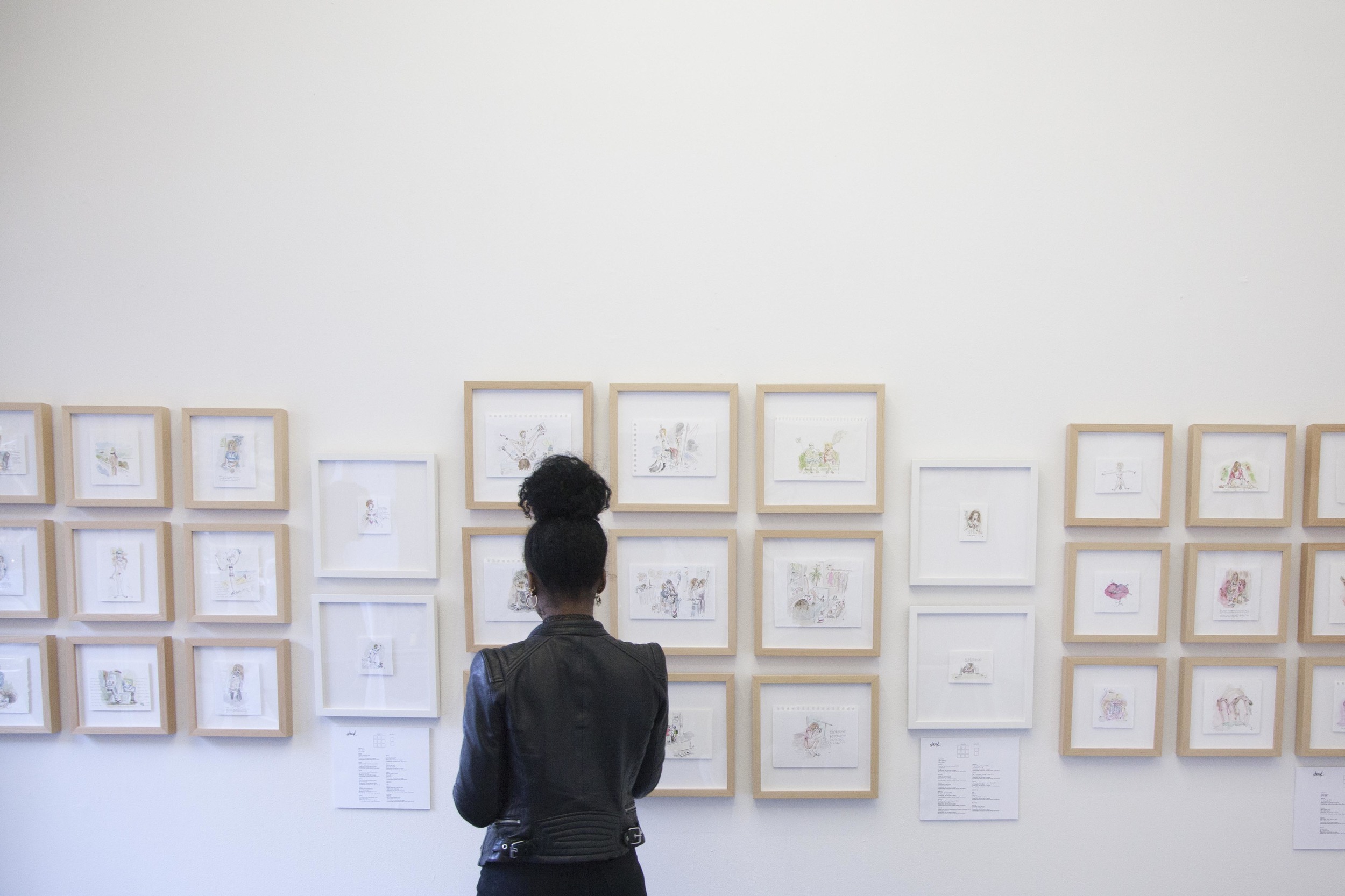 Original framed art work from Colantoni's debut New York solo exhibition, Safety In Numbers - May 2016.
About SAFETY IN NUMBERS:
Wallplay are pleased to present 'Safety in Numbers', the first solo exhibition of illustration works by New York-based artist Anouk Colantoni. Colantoni is a French/Australian creative director and the quintessential artist of today. Colantoni communicates, through self-referential processes, her fascination with the everyday human experience transforming the mundane into moments of magnificence. This exhibition offers a unique viewpoint from a key female contemporary artist.
In this series, Colantoni examines her subjects through both a contemporary and classical conceptualization of human form and behavior. Working in miniature, her chosen media is written word, pen, ink and watercolor, and her practice wrought with a visceral vitality influenced by the work of Miranda July, Tracey Emin, Egon Schiele, Quentin Blake, Henry Darger, Lisa Yuskavage, Balint Zsako, the writings of Anaïs Nin, Murakami, whimsical Studio Ghibli animations and Technicolor films from her childhood.
As a storyteller, Colantoni's artistic inquiry is concerned with the grey areas of human nature: imperfections, vulnerabilities and contradictions. Humor and honesty play part in expressing what her characters do in private and what they show to the public - the struggle in a seemingly narcissistic world. Leading "normal lives" as a negative, these characters explore the impact of constant comparison via social media, advertizing and the speed at which we can access information. What is success and how do we measure it? The works in this series demonstrate her desire to find meaning and humor in these incongruities, the liminal spaces between reality and perception, questioning the loss of self understanding under the scrutiny of others, the false safety in having numerous followers rather than friends - and ultimately the value of human connection.
This collection of 53 small and medium scale works is a powerful examination of contemporary notions of beauty, values, gender, and female sexuality. Having grown up in the relatively remote area of Tasmania, Australia and moving to one of the world's fastest and most creative cities gives her a unique perspective on culture, the impact of one's environment on the psyche and what one really needs to be happy. Why does pretending prevail?
Challenging the idea that bigger is better, her tiny worlds draw upon the rich and romantic small moments of self-taught truths and myths. Defined by her humor and confronting visual style that conjures an ephemeral and otherworldly effect, she is provocative in her role challenging social constructs of sexuality. Many of the pieces explore the female body, the right to choose and the nature of self. Her raw sexuality is balanced by a delicate process of hand-drawing and soft watercolor stains.